It is important to know how to support someone who identifies as LGBTQ and experiences I/DD. Do you feel equipped to provide a safer space for sexual and gender minorities? Will you know what they are telling you about their identity and how that impacts their needs? Would you know what questions to ask and how to explore definitions with the person you support?
People who are LGBTQ+ are often marginalized and omitted from the dominant narrative about sexual development – and may even be afraid or unsure how to tell you about their needs. This training will help equip you to demonstrate an openness, respond thoughtfully, and give you strategies to support someone to explore their own identity.
Learning Objectives:
Understand different sexual and gender identities
Recognizing gender as a social construct
Realizing the diversity of genitalia and genetic make-up (not just XX or XY)
Acknowledging the diversity of relationship models and sexual self-expression
Developing skills for discussing sex and sexuality
Building safer spaces to support individuals who identify as LGBTQIA+ and experience I/DD
Do you have questions about this training? Want to register or pay for a group of people?
Email us at
training@thearcoregon.org
About Instructor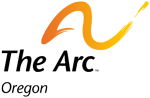 Login
Accessing this course requires a login, please enter your credentials below!